Shakespeare's Asian Journeys: Critical Encounters, Cultural Geographies, and the Politics of Travel
Selected papers from the inaugural ASA conference edited by Bi-qi Beatrice Lei, Judy Celine Ick, and Poonam Trivedi
Routledge, 2019
ISBN 9780367884260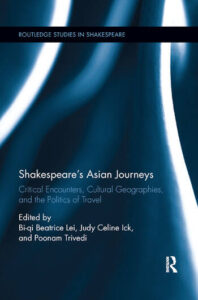 This volume gives Asia's Shakespeares the critical, theoretical, and political space they demand, offering rich, alternative ways of thinking about Asia, Shakespeare, and Asian Shakespeare based on Asian experiences and histories. Challenging and supplementing the dominant critical and theoretical structures that determine Shakespeare studies today, close analysis of Shakespeare's Asian journeys, critical encounters, cultural geographies, and the political complexions of these negotiations reveal perspectives different to the European. Exploring what Shakespeare has done to Asia along with what Asia has done with Shakespeare, this book demonstrates how Shakespeare helps articulate Asianess, unfolding Asia's past, reflecting Asia's present, and projecting Asia's future. This is achieved by forgoing the myth of the Bard's universality, bypassing the authenticity test, avoiding merely descriptive or even ethnographic accounts, and using caution when applying Western theoretical frameworks. Many of the productions studied in this volume are brought to critical attention for the first time, offering new methodologies and approaches across disciplines including history, philosophy, sociology, geopolitics, religion, postcolonial studies, psychology, translation theory, film studies, and others. The volume explores a range of examples, from exquisite productions infused with ancient aesthetic traditions to popular teen manga and television drama, from state-dictated appropriations to radical political commentaries in areas including Japan, India, Taiwan, Korea, Indonesia, China, and the Philippines. This book goes beyond a showcasing of Asian adaptations in various languages, styles, and theatre traditions, and beyond introductory essays intended to help an unknowing audience appreciate Asian performances, developing a more inflected interpretative dialogue with other areas of Shakespeare studies.
Asian Interventions in Global Shakespeare
Selected papers from the second ASA conference edited by Poonam Trivedi, Paromita Chakravarti, and Ted Motohashi 
Routledge, 2020
ISBN 9780367615192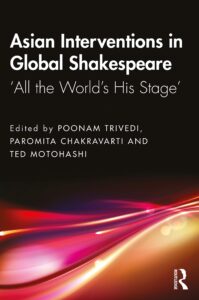 This volume critically analyses and theorises Asian interventions in the expanding phenomenon of Global Shakespeare. It interrogates Shakespeare's 'universality' from Asian perspectives: how this has been modified or even replaced by the 'global bard' as a recognisable brand, and how Asian Shakespeares have contributed to or subverted this process by both facilitating the worldwide dissemination of the bard's plays and challenging and resisting the very templates through which they become globally legible. Critically acclaimed Asian productions have prominently figured at premier Western festivals, and popular Asian appropriations like Bollywood, manga and anime have created new kinds of globally accessible Shakespeare.
Essays in this collection engage with the emergent critical issues: the efficacy of definitions of the 'local', 'global', 'transnational' and 'cosmopolitan' and of the liminalities and mobilities in between. They further examine the politics of 'West' and 'East', the evolving markers of the 'Asian' and the equation of the 'glocal' with the 'Asian'; they attend to performance and archiving protocols and bring the current debates on translation, appropriation, and world literature to speak to the concerns of global and transnational Shakespeare. These investigations analyse recent innovative Asian theatre productions, popular cinematic and manga appropriations and the increasing presence of Shakespeare in the Asian digital sphere. They provide an Asian standpoint and lens in rereading the processes of cultural globalisation and the mobilisation of Shakespeare.
Shakespeare Review
Special Issue: Intersections in Shakespeare
Vl. 57, No, 4
Selected papers from the fourth ASA conference
The Shakespeare Association of Korea, 2022
ISBN 12262668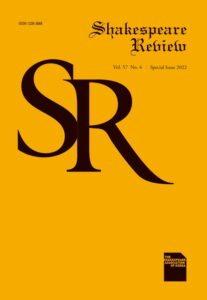 Contributors: Yu Jin Ko, Yuri Ji, Yukiko Mori, Hisao Oshima, Unyoung Park, Dong-ha Seo, Iris H. Tuan